Our Favourite Expert-led Gardening Trips for 2024
Four of the best expert-led gardening trips to book for horticulturists
For the green-fingered experts, aspirational cultivators and botanically curious, Tripsmiths offers a plethora of gardening trips for nascent horticulturists. Whether you're looking to explore a quintessential English country garden, the iconic blooms of Belgium and Netherlands, or even the wildflowers and botanical gardens of South Africa, there's a trip for you. Read on to find some fantastic inspiration through unique, expert-led gardening trips - making for the perfect itineraries to book and look forward to this year.
Isles of Scilly Wildlife & Gardens with Julian Branscombe
Explore the beautiful Scilly Isles of Tresco, St Agnes, St Martin's and Bryer on this six-day tour. Enjoy a range of scenic walks, guided excursions and wildlife explorations in the company of Julian Branscombe, CEO of the Isles of Scilly Wildlife Trust. The highlight will undoubtedly be a guided visit to Tresco Abbey Gardens, a renowned sub-tropical garden - boasting 20,000 plants from over 80 countries. Other adventures include a wildlife cruise and an organic vineyard tour, as well as a special dinner and talk from Julian.
6 days | Departs April 2024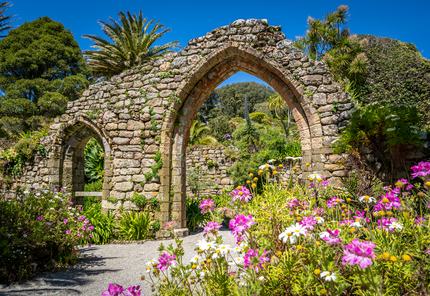 Madeira Flower Festival with Frances Tophill
Known as the Floating Garden of the Atlantic, Madeira's lush verdant landscapes and stunning gardens make for a wonderful trip. Join gardening expert Frances Tophill as you visit the iconic Madeira Flower Festival. Not only will Frances join you on excursions, but she'll also host an exclusive Q&A session. While other horticultural highlights include the orchids at Palheiro Gardens, the exquisite colours of the Monte Gardens and the Quinta do Arco Rose Garden.
8 Days | Departs May 2024
Cruise the Netherlands' Waterways with Adam Frost
Discover the Netherlands' beautiful waterways by luxury river ship next Spring and join award-winning gardener Adam Frost, as you witness the country's colourful flower fields. Adam will join you on a visit to the Keukenhof Gardens, where you'll see over 7 million flowers covering 80 acres of colourful land. You'll also see the iconic windmills along the canal banks of Kinderdijk and spend time in Rotterdam and Amsterdam. Watch the landscapes pass you by from the panoramic windows of your ship, the MS Emily Brontë and enjoy the springtime in bloom.
5 Days | Departs April 2024
Kent & Sussex Country Gardens with Sarah Raven
Enjoy a summer trip to several English country gardens, as you explore Kent and Sussex with garden designer, broadcaster and author, Sarah Raven. The highlight will undoubtedly be a special talk hosted by Sarah at her garden at Perch Hill, East Sussex. But you'll also have private early access to Sissinghurst, and visit the gardens at Lullingstone Castle, Great Comp, Pashley Manor, Great Dixter and Scotney Castle. Stay in picturesque Royal Tunbridge Wells for three nights.
4 Days | Departs June 2024