The best cruises to take in 2024
Take a voyage to remember
Are you thinking about your holidays next year and wondering what adventures might lie ahead? If you're hoping to tick off bucket-list destinations in a convenient and comfortable way, a cruise might be the perfect way to do it.
A cruise can take many forms. For some, it's a chance to get away from the stresses of everyday life and relax as you make the most of the facilities on board your home at sea. Many cruise ships now include excellent spa facilities, and pools or hot tubs on the decks so you can kick back and watch the world go by.
For others, a cruise might be a chance to get a little more adventurous. Some cruises on smaller ships allow you to tuck into coves and dock at locations that are hard to reach by other means, allowing you a really immerse experience in the country you're visiting.
River cruises can be a great way to get to know a country, stopping off at various cities, towns and villages as you go.
Our cruises cover all of these - from cultural odysseys along the world's best rivers, to expedition cruises to remote islands, and relaxing trips to beautiful sunkissed shores. Take a look at our selection of top cruises for next year to help you decide.
---
Cruise the Dutch Waterways with Adam Frost
The perfect cruise for garden lovers! Join award-winning gardener and presenter Adam Frost, who'll give an exclusive talk and a Q&A, and will join you on a trip to Keukenhof Gardens in Holland, where you'll see the seven million flowers in full spring bloom while sailing on MS Emily Brontë, an elegant river ship.
Sail through the Venetian Lagoon with Tom Kerridge
Explore the Venetian lagoon and meet top chef Tom Kerridge on this unique cruise. You'll see the highlights and hidden gems of the region with exclusive access to some of Venice's top attractions including St Mark's Basilica for an atmospheric lighting ceremony. Tom will hold a Q&A session on board and host a cooking demonstration.
Discover Bordeaux with top chef Monica Galetti
Set sail on a special cruise through one of France's prettiest regions to see landscapes and cultural treasures along the banks of the Dordogne, Garonne and Gironde. You'll be joined by chef Monica Galetti, who'll visit the farmer's market in Libourne with you before hosting a live cooking demonstration, Q&A and book signing.
See the best of Vietnam and Cambodia
Join a wonderful cultural voyage along the Mekong, one of Asia's most important rivers. Before boarding the Mekong Jewel you'll have two days in Ho Chi Minh City, where you can witness ancient history melding with modernity in Vietnam's largest city and there'll be 13 immersive excursions included in your itinerary as you sail, including the archaeological site of Angkor.
See Japan during cherry blossom season
Another cruise in Asia which will leave you with memories for a lifetime, this adventure around Japan will show you the tranquil temples and picturesque old towns alongside the bright lights and technical innovation of ultra-modern cities of this beautiful country. You'll be travelling at the height of cherry blossom season, when trees around Japan are covered in spectacular pink blossoms.
Voyage through Central America on a tall ship
Discover the natural wonders of Central America on this thrilling voyage on board a magnificent masted clipper. You'll sail down the west coast of Central America on a week-long exploration and get to know Costa Rica and Panama plus two paradisiacal islands - Coiba Island and Parida Island.
Immerse yourself in Antarctica
This cruise really is the adventure of a lifetime, taking you to corners of the planet that few have had the chance to explore. Jaw-dropping scenery and wonderful wildlife await as you sail to the icy wilderness of Antarctica and enjoy landings with an expert expedition team, who'll tailor your excursions based upon the conditions.
Cruise through the Douro wine region
Discover the delights of the Douro River on this eight-day all-inclusive river cruise on board an elegant ship. This gorgeous, sun-kissed region of Portugal is the world's oldest demarcated wine region and you'll explore the rolling hills and terraced vineyards from your ship and visit peaceful villages to get a taste of local life.
Tour Scotland's Highlands and islands on a luxury yacht
For a cruise closer to home but magical nonetheless, join this adventure cruise through Scotland's majestic scenery. Your trip will take you to some of the most stunning locations in the Highlands and Islands, including a trip along the impressive Caledonian Canal, as well as visits to hidden sea lochs and captivating isles of Scotland's western shore.
Island-hop in the Hebrides
Another voyage around the stunning Islands of Scotland is this cruise which will take you through the wild beauty of Scotland's west coast on an adventure cruise to 12 of Scotland's islands, from Isle of Arran in the south all the way north to St Kilda - home to one of Europe's most important seabird colonies - and Stornoway, where Harris Tweed originates.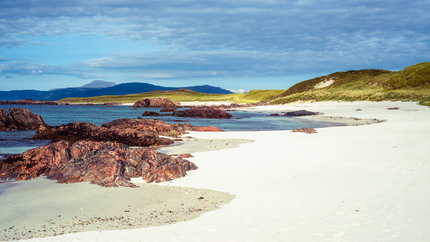 Scotland's Highlands & Islands with Carol Kirkwood
Join weather presenter and proud Scotswoman Carol Kirkwood as you sail through the Caledonian Canal to Scotland's western shores and beautiful islands. Small yacht-like ship Lord of the Glens will be your home-from-home, as you cruise hidden sea lochs, view rugged landscapes and maybe even catch a glimpse of local wildlife. Carol will join you for an evening, delighting the group with stories of her Scottish childhood and anecdotes from her career, followed by a chance to ask her questions.
Explore the Veneto Region with James Martin
Foodies will relish the opportunity to meet one of the nation's favourite chefs, James Martin on this eight-day luxury cruise of the Venetian Lagoon. Not only will you enjoy exclusive access to some of Venice's most-loved sights including the Doge's Palace and St Mark's Basilica, but back on board, James will host a private Q&A session about his life and career and give a talk as well as curating and cooking a special gala dinner. With excursions, cultural enrichment and on board entertainment included, this is a sailing not to be missed.